PowerWagonRegistry.org
Power Wagon Registry (2005 and up)
Welcome!
Please note: The logins to the registry (this place) and the forum are different. You'll need to create a separate account for the forum.
This registry exists so that Power Wagon owners can find each other and also to try and get an idea of how many were made for each production year. Many people have tried to contact Dodge directly to find out that information with no success. If you didn't already know, the 2005 Power Wagons are sequentially numbered (the last four digits of the VIN). Please see the FAQ page for some more detailed information and myths about the production numbering.
Please note that this registry is for Power Wagon model year 2005 and newer. If you're the owner of an earlier model Power Wagon, take a look at the links page for older model year registeries.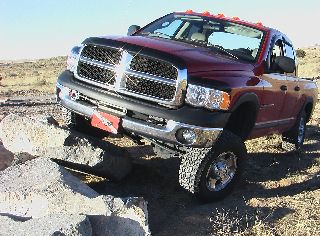 My overall vision for this registry is so that say, a Power Wagon owner in Albuquerque, NM can find other owners in the same city or state to wheel with. We bought one of the most capable stock off-road vehicles ever made, get out there and wheel it!
If you're not familiar with the revitalized Power Wagon line, here's the highlights.
Built on the 2500 series Ram.
5.7L HEMI©
4.56 ring and pinion gearing front and rear.
TracRite GTL locker in rear and TracRite EL locker in the front w/ in-cab controls.
40mm Bilstein Monotube gas charged shocks on all four corners.
Electronic in-cab sway bar (AAM Smart Bar) disconnect for 32" of articulation (655 on the RTI).
Undercarriage skidplates for steering damper, transfer case, fuel tank.
Fore and aft skid bars between skidplates.
12,000 pound Warn winch.
33" BFG All Terrain KOs.
Modified Alcoa rims to provide stronger bead seating.
Softened throttle response in 4-Lo for better control.
160 amp alternator and 750 amp battery.
See the Power Wagon Tech page for in-depth details.
News:
03-09-2008
Lots of new stuff in the FAQ

---
03-09-2008
Power Wagons Wheeling in Rio Puerco

---
12-1-2007
Locker Bypass How-To: Use your lockers in 4lo, 4hi, and even 2wd!

---
---
09-25-2007
PowerWagonRegistry.org Goes Live.

Thanks to geowagon, pwrwgn05, and Shep21 for testing.


Offsite Resources: